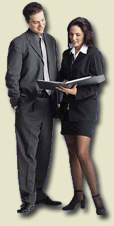 They're the additional employees you need only when you need them.
Temps work the large events; perform seasonal projects; and replace discharged, ill, or vacationing employees. When you place a temp order we notify only qualified and dependable personnel that have the experience, uniform, availability, and positive attitude that your company expects and deserves.
Benefits:
Additional staffing support for more hectic periods
Immediate coverage to replace discharged, ill, or vacationing employees
Reduce training by requesting the same employees again and again
Eliminate overtime and reduce labor costs
Interim management, trainers, and consultants
Satisfaction Guaranteed:
If you are, for any reason, dissatisfied with your assigned employee(s), simply contact our office. We will remove our employee(s) immediately at no further cost or obligation to you.